Featured: Innovative Minds in Veterinary Medicine- Dr. Adam Christman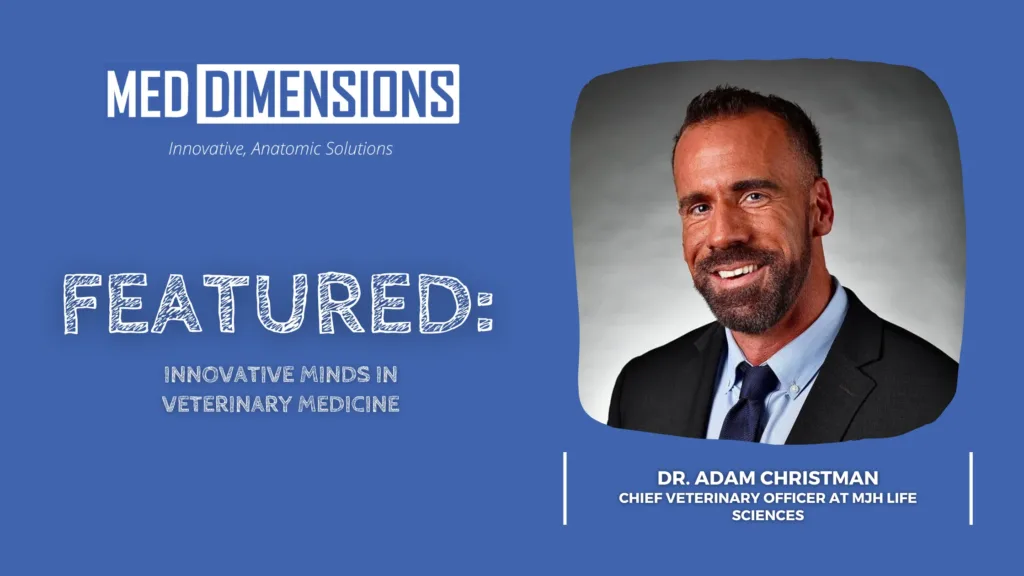 1) When did you know you wanted to be a veterinarian and what fueled that decision?
Since I was 5 years young. I've always been fascinated by science, nature and dogs. I even started my own dog walking business when I was in 5th grade- a young entrepreneur! But it really was intended for me to understand dog behaviors, breeds and really get immersed in their understanding. When my parents took our family dog "Archie" to the veterinarian, I knew right then that was my calling. The ability to help animals heal and provide a voice to the voiceless resonated with me at an early age.
2) You've got quite the following on social media and host an excellent veterinary focused program. How did you get to this point?
I. DON'T. KNOW! I still find it fascinating that people are connected to me and my content. I love it and am truly humbled with gratitude and appreciation. The more awareness and education we can bring to everyone, the happier the world can be- and I truly mean that. My platform is all about teaching kindness and it starts by providing unconditional love to another species. I know when the pandemic hit, my colleagues were getting hammered with appointments and questions. I wanted to help out as much as possible and figured elevating my Tik Tok voice further by hosting daily live streams would help. Low and behold, the amount of messages I received both from veterinary professionals and pet parents was incredible. "Thank you for putting my mind at peace. I brought my dog in right away as I didn't know it was an emergency." Those kinds of messages really fueled me to continue to post educational and fun content. As many of my followers and students know, I love to teach and laugh at the same time. I believe it's the perfect secret sauce for valuable education.
3) With DVM360, you see so many great companies and products come through trade shows and conferences. What do you think separates the great ones from those who have failed over the years?
Supporting veterinary education will help any company put its mark on the map. And I'm not talking about a sales pitch but rather true meaningful education. Regardless if the content is medical versus non-medical, providing a fun, innovative and inclusive atmosphere of veterinary professionals coming together to learn some valuable and practical takeaways is a home-run of success. As we all know, knowledge is power and if a company invests heavily in the veterinary professional's education, they will see the "why", 'what", "how" and ultimately the "who". Invest in us and your ROI will be achieved.
4) What do you see as the future of veterinary medicine? Where do you see "dvm360® LIVE!" progressing to over the next few years?
Well that's a loaded question and a very complicated one but the future of veterinary medicine is bright and strong. We are a resilient and adaptive profession, as recently noted by the pandemic. We know we stronger together and celebrating each other's differences helps for greater outcomes.We certainly have our flaws but we are owning them and doing something about them. We will continue to move the needle for DEI, mental health awareness and student loan debt. There will be a strong push for virtual care, mentorship and a team-based approach to learning (incorporating all departments of the veterinary team to continuing education). There will be a much greater demand for veterinarians both large and small and a need to make their education cost effective. I have a lot more to say but you'll have to stay tune and follow me as I have a very strong idea on certain trends that are coming in the very short term of the profession.
Who knows where dvm360® LIVE! will take me and our team! But we are buckled in and enjoy the incredible ride we are on with the great feedback we are receiving from colleagues and more specifically, veterinary students! They are LOVING the fact that they get to see veterinary professionals doing great work both in and out of the exam room. It was really important for me personally to showcase the fun side of what we do. We wear many hats in our lives and being a veterinarian is just one of the many hats that we wear. Season One showed to us that we are bakers, gardeners, singers, dancers and artists. I can't think of a better veterinary show that truly celebrates the individual. I always thank my guests for being in our profession. We truly have some of the most incredible people in our profession who happen to be superheroes known as veterinarians.
5) To be a veterinarian and have your role with DVM360 has got to be difficult to balance. What does your day to day look like and how do you stay on top of it?
I like to compare this analogy to practicing full time in my small animal practice—it often feels like I am in 5 exam rooms at the same time with open invoices and no records completely written up! It's a very busy day with appeasing many different kinds of people. As a practicing veterinarian, you're mostly concerned with caring for clients and their pets. As a veterinarian in multimedia and continuing education, you're concerned with your colleagues, organizations and lots and lots of companies. It is a lot of work but a lot of fun. Having a great team to support me on my crazy ideas (and yes some of them are truly outside of the litterbox ideas) that start in the board room and go out into action is truly remarkable. I still get to do private practice as I think it is so so important to stay sharp and relevant on the latest in veterinary medicine. I enjoy implementing what I learn from the conferences and client calls into action.
6) What drives you to be successful and be the best veterinarian that you can be?
My family. I have the most supportive husband I could ever ask for. Chris is someone who gets me and is there for me through all of it. My dogs are my "why". I say this in a lot of my speaking events how important it is to turn off the doctor hat and put on the pet parent hat. I get on the floor with the dachshunds and be silly, goofy and fun. It helps recenter my why of what we do as veterinarians every day. The human-animal bond is a sacred bond that I cherish and protect closely to my heart. I also had the most supportive parents anyone could ask for. My best friends happen to be both my mom and dad who are no longer with me unfortunately. I always wondered what they would have thought of my next chapter in my career now that I'm in multimedia and continuing education. My mom used to tell me I was born with a microphone and a stethoscope so I think they knew where I was heading!
7) What do you do in your spare time, if you have any?
I love, love working out. It's my true mental health break. I'm very passionate about fitness as many of you who follow me know. There are days I would love to sleep in and do nothing. But I force myself to wake up at 4:30am to start my gym morning and know how crucial it is to be the best employee, husband, dog father, friend and mentor I can be every day.
I'm equally passionate about music. Music is my life and therapy. I enjoy it whether it be on Broadway, in my car or at home. That's probably why I got so hooked on Tik Tok! The music brought me there!
Chris and I love Disney. Walt Disney always said, "Getting old is mandatory, but growing up isn't." And we are truly kids at heart. Life is way way too short to take yourself too seriously. I enjoy making others laugh and feel good about themselves. I want my legacy to be how fun, inspirational and motivating I am to others. There's enough toxic "things" out in this world today. I want to surround myself with those that love to laugh, learn and love animals. I don't think that's too much to ask for!
Connect with Dr. Christman on LinkedIn here.
Follow Dr. Christman on Instagram here.
Follow Dr. Christman on Tik Tok here.
Follow Med Dimensions on Linkedin here.
Like Med Dimensions on Facebook here.