Canine Stifle Product Release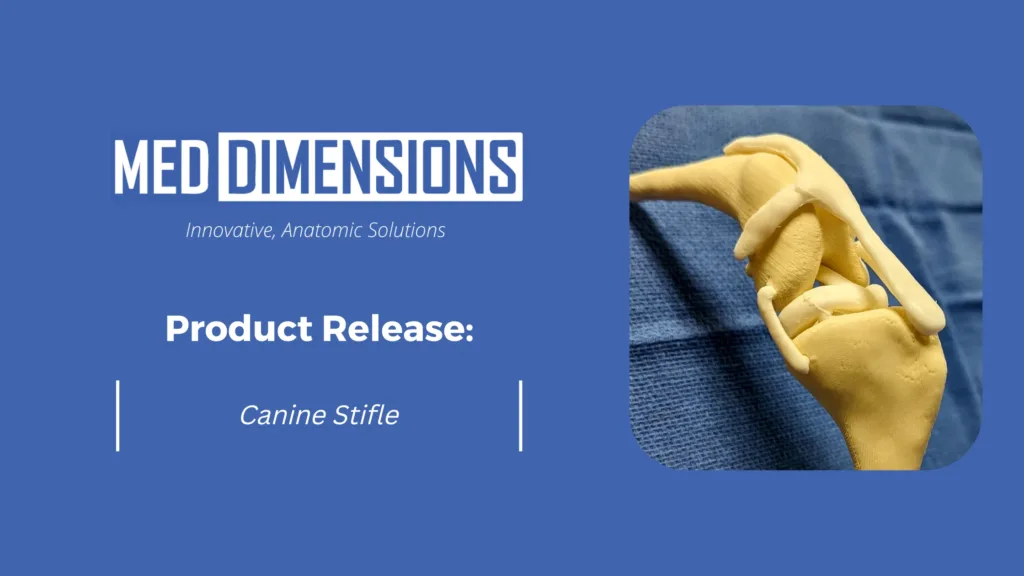 Med Dimensions is proud to offer a canine stifle, MD-E-2000, now available for purchase.
Product Overview
This product is a model of a left hind limb, derived from real CT scans to provide as close to real anatomy as possible. The model includes LCL, MCL, Meniscus, Patellar Tendon, and Tendon of Ider constructs. It is a replica of a small/medium canine, roughly a 15-20kg dog, and is 8.5 inches long.
Key Features & Benefits
The ligaments are constructed of a blend of silicone that allows for proper constricted motion of the joint, as verified by leading veterinarians. The partial tibia and femur is 3D printed in a filament that is ideal for cutting and drilling practice. The silicone ligaments will hold suture, and are secured within the bone- not glued on- to prevent premature ripping of the ligaments from the insertion sites. The bone holds anchors, buttons, plates, and screws, providing tactile feedback to the user and ideal for demonstrations.
Purchasing Information