Ardent & Med Dimensions Commercialize Innovative 3D Joint Model for Veterinarians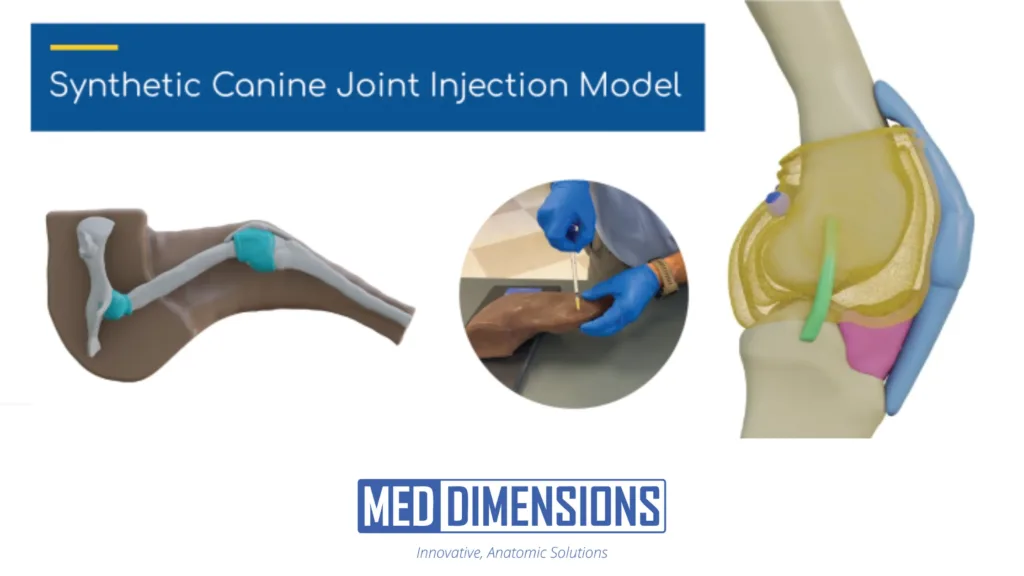 See the original article on LinkedIn
Lexington, KY – April 26th, 2023 – Ardent, a company focused on innovation in pet health has partnered with Med Dimensions to bring to the veterinary market a fully synthetic 3D-printed canine joint model for veterinarian training. The model will replace the traditional practice of training on cadaver patients and allow for advanced training for veterinarians on joint-based treatments. Joint-based therapies such as regenerative medicine treatments including Platelet Rich Plasma, Stem Cell, and Protein based biologics have exploded in popularity for pet parents replacing traditional treatments that mask or block their pet's pain.
Still, the importance of delivering joint-based biologic treatments in and around the areas of the disease remains vital to long-term healing. Historically, few joint-based therapies existed in companion animal medicine and training was cumbersome and required sensitive logistics in cadaver sourcing.
Our veterinarian customers are compassionate healers, this innovative training model will allow for joint therapy training to enter the era of innovation. With virtual reality-based medical training now available in human healthcare it's time we move the needle in animal health. By providing this training model Ardent intends to continue to expand its regenerative medicine procedures to clinics across the world and academic training facilities. Seeking out partnerships with nimble innovators like the Med Dimensions team allows Ardent to accelerate our mission.
The use of simulation models can be a cost-effective alternative to traditional training methods that may require expensive equipment and materials, as well as the use of real animals, which can be costly and potentially risky. Models can be reused for multiple training sessions, allowing veterinary professionals to practice procedures and skills repeatedly without the need for additional resources- enabling them to develop and refine their skills in a controlled environment, without the pressure and stress that comes with treating real animals. This new injection model has been designed to provide healthcare professionals with a realistic and immersive training experience for administering injections.
The joint injection training tool is designed to simulate the anatomical structure of a joint in animals, providing veterinarians with a realistic experience of administering joint injections. It allows for repeated practice, building confidence and proficiency in the technique. The tool is user-friendly and made of durable materials, ensuring longevity and ease of use. This synthetic joint model is now available for purchase, contact Ardent at 1.800.365.9168 or email info@ardentanimalhealth.com to learn more about adding this to your practice or organization.
Key Features & Benefits:
Created using imaging to create an anatomically correct model for the canine hip and stifle joint.
Designed with durable material for long-term use
Ability to order replacement parts
Provides Veterinarians with a tool to practice both hip and stifle joint injections
Ardent provides Joint Injection Virtual Training session available with Board Certified Veterinary Surgeon
About Ardent
Ardent is a BreakThru company, a growing family of entrepreneurial businesses with a core mission of improving the lives of people and pets. This core mission has allowed Ardent to develop affordable, innovative treatments for canine cancer and joint disease assisting our veterinarian partners to make a positive impact on pet health. Learn more about Ardent by visiting – https://ardentanimalhealth.com.
About Med Dimensions
Med Dimensions is founded on one simple principle: taking uncertainty out of medical procedures. We believe no patient should be denied access to technologies that improve the surgical experience. We continue to work tirelessly to develop a system which gives any surgeon access to high quality, patient specific models and tools to ensure a faster and safer procedure. By combining our industry expertise with the efficiency of rapid manufacturing technologies, we are proud to offer our customers a cost effective and accuracy driven service. We've made it our mission to tailor our services to as diverse a range of customers as possible, human and animal, in order to have an extensive impact. Learn more about Med Dimensions by visiting – https://www.med-dimensions.com.