Canine Arthroscopy Trainer Product Release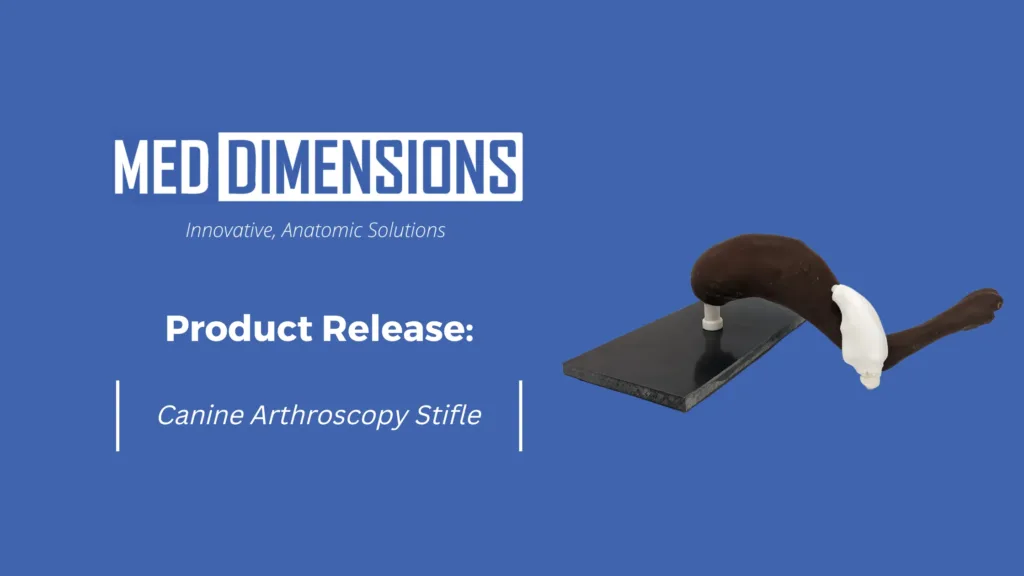 Med Dimensions is proud to offer a canine arthroscopy stifle, MD-E-2000AR, with replaceable stifle joints and skin, MD-E-2000AR-1, now available for purchase.
Product Overview
MD-E-2000AR is a training model for teaching and learning arthroscopic procedures and analyzing different pathologies in a stifle, and to replace the use of cadavers in arthroscopy training. It is derived from a CT scan of the left hind limb of a medium sized dog. The model includes the LCL, MCL, Meniscus, Patellar Tendon, tendon of long digital extensor, patella, and fat pad in a replaceable sealed capsule that can be used with fluid.
Key Features & Benefits
Users are able to use all forms of arthroscopic equipment, without damaging the model more than a real stifle. The ability to practice realistic arthroscopy without the need of cadavers. The femur and tibia are 3D printed in resin to increase longevity, and is anchored to a based at the proximal end of the femur. The joint space can show different diseases/pathological issues, meniscal tears, OCD, CCL tears, and more.