Featured: Innovative Minds in Veterinary Medicine- Alyssa Mages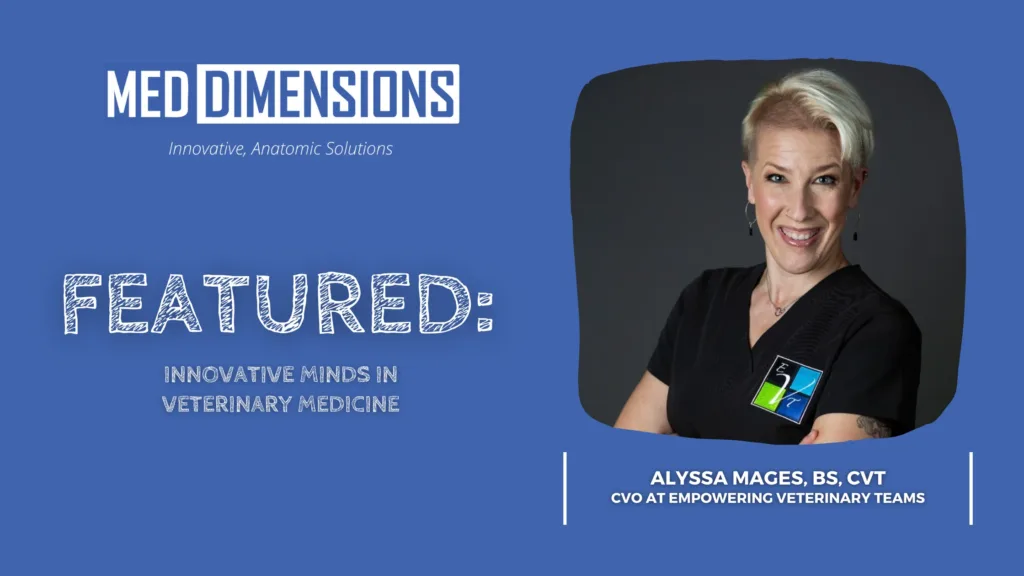 Med Dimensions sits down for a conversation with Alyssa Mages, Chief Visionary Officer at Empowering Veterinary Teams.
When did you know you wanted to get into veterinary medicine and helping animals? What sparked the interest?
I didn't think of myself as always wanting to work with animals- but I've realized, through similar conversations like this that I in fact, did! Growing up we always had a fish tank, then we added a guinea pig, a turtle, a parakeet, and the house was never without a cat – no dogs, my dad was allergic – and then I fell in love with the ocean. We had a cottage on Cape Cod that we rented yearly and after my 1st whale watch when I was 4, I was hooked. I finished my degree in marine biology and moved to the Florida Keys where I taught marine biology, swam/scuba'd with sharks, sea turtles, dolphins, pilot whales, and a whole host of other marine creatures – HEAVEN! But I soon realized that I wanted to do more FOR them. The original plan was to be a marine veterinarian, but my professional path detoured and pivoted several times. I couldn't be happier with where I've landed.
In addition to being a rockstar vet tech, you're also a business owner. What's the best way to describe what EVT does?
You're too kind! I've been a CVT since 2012, but in the veterinary profession since 2004. Over the years I saw & experienced firsthand what it was like to have a structured & supportive training program, and when it wasn't there, I wasn't the only one who could feel its lack.
EVT was founded to ensure that every member of the veterinary support team – CSR, assistant, veterinary technician – has the tools, knowledge and guidance to ensure that they not only do what they love, they love what they do. We cannot empower anyone, but we can provide the tools, programs and ultimately the skills for them to empower themselves. We focus primarily on crafting custom training programs for veterinary practices that ensure a standardized, streamlined approach to growth and development so that team members have a clear understanding of what they can do and how they can do it. This not only supports the individuals, but the practice, and ultimately our profession as a whole.
How do you marry the role of vet tech and serial entrepreneur? In other words, how are you making sure that the labs and other educational pieces you provide are helping vet techs?
I don't see these two roles in opposition- on the contrary, a veterinary technician is inherently an innovative individual. We must be in order to make things work in sometimes less than ideal situations! To ensure that the work I do now, being more on the outside of clinical practice, stays relevant is by keeping involved. Through mentorship, state VMA participation, and continuously seeking the latest and greatest procedures and methodologies, I keep myself and my team up to date and engaged. I also reach out to the other innovators in our field and see what they are up to, how we can help and/or enhance the work that we're both doing. No more competition, we've gotta collaborate to ensure the veterinary industry doesn't just survive, it thrives.
What do you see as the future of veterinary medicine for vet techs?
I see them AS the future of veterinary medicine. Can anyone really picture a functional and healthy practice, or an evolved industry provider, or an academic institution without these individuals? I cannot, they're vital & integral to the overall success of the profession. And for them to fulfill this, we must ensure that the longevity of their roles within veterinary medicine continue to evolve, expand, and be inclusive for ALL peoples. Embrace the changes – telemedicine, integrative approaches, and so on – and then be a part of making it happen.
When you're giving a presentation to other vet techs, or teaching a lab that you put together, what is the feeling inside of you?
I live for the "A-HA!" moments, and being able to see that happen live is absolutely incredible. I love to learn new things & to be able to take that and pass it forward to someone else is the greatest gift.
How did you get where you are today?
With a lot of love and support from my family and friends, and never giving up. I'm very fortunate to have a partner that is incredibly supportive, children that cheer me on, parents that pushed me from a young age and continue to be my guides, and an amazing group of friends that are always in my corner. The never giving up part doesn't mean that I haven't been discouraged or hit some dead-ends – I have and have the bruises to show for it! But I've always had this desire to do more, be more, and make a difference in this world and I strive to do that every day.
What do you enjoy doing in your spare time? (if you have any!)
I try hard to make sure I do! I'm a singer/songwriter – sing in a Tom Petty tribute band (lead/backup vocals, flute and percussion) and do some open-mic nights with a buddy of mine, love it. And when the weather cooperates I'm out with my kiddos on a hike, taking the SUP out, and just generally soaking up nature whenever I/we can.
Follow Alyssa Mages on LinkedIn here.
Follow Empowering Veterinary Teams on LinkedIn here.
Visit Empowering Veterinary Teams' website here.
Follow Med Dimensions on LinkedIn here.