Featured: Innovative Minds In Veterinary Medicine- Will Byron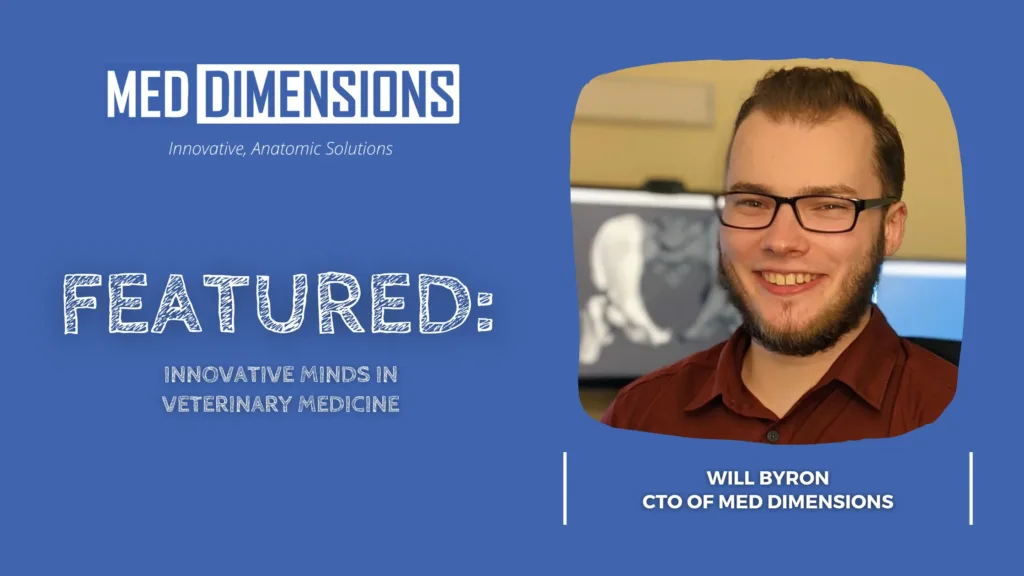 A Sit Down Interview with Will Byron, Chief Technology Officer and Co-Founder at Med Dimensions.
1. What has inspired you to help animals?
From before I was even born, my parents had been doing animal rescue which meant I was born in a life full of, and fulfilled by, animals. It ranged from things as small as fish to as large as horses, and dozens of different types in-between. With parents both in the medical field, it meant we got the "broken pets" that people dumped or couldn't care for medically. Watching these animals being nurtured back to health, and my parents doing the same for people, ingrained a desire to find ways to help those who can't always help themselves.

2. You mentioned growing up with "broken pets" and watching them be nurtured back to health.What's it like knowing your work and education has been to help animals?
To be frank, its fulfilling to know that I can still help pets while being involved in really high tech stuff. I always struggled to see how I could blend all my interests and still be in touch with my passion for animals. I thought I would need to go after a job would give me the financial means to do so, but now I get to help pets everyday AND its everything I, as a self proclaimed "enginerd", love to do and tinker with.

3. When you see a surgical cutting guide that Med Dimensions made being used in a procedure, what is that feeling like?
I can't really find the right word- beyond flabbergasted! The fact we can help pets through technology that is so new and just coming to light in human medicine, is beyond what I dreamed possible until a few years ago. On top of that, having spent those years hearing the stories, seeing the stress in the OR, and then hearing how these cutting guides really helped or even so far as "making the surgery possible", leaves me feeling like I'm dreaming.

4. When did you discover your engineering experience would help you create products to assist vets and people's pets?
A bit of backstory is necessary here; I came into undergrad dead set on making the next generation of prosthetics. I was convinced there was no other way, no other thing I ever wanted to do. I thought that was my new reality after I joined a human focused prosthesis lab working with our Co-Founder and CEO Sean Bellefueille. When that lab closed down, Sean and I decided that was not going to be the end of it, we spent a lot of time figuring out how to make this into a club. Through some of resources from that lab, and people like Jade Meyers from RIT, the club came to fruition and we were connected with some people and a pet or two in need. The details are muddy on how it all happened, but eventually the club was running more projects for pets in need than people. There was no single point in that process where I just knew, but eventually I decided I loved the pets part of the work and I think I could do this forever, because it seemed like pets were really overlooked. A few more years of doing that work, and a local veterinary surgeon reaching out to us for help on a angular limb deformity case then opened my eyes to the fact I could help pets by helping their vets! It really was that case that started a cascade of events that lead me to know I wanted to use my engineering skills to help pets and vets.
5. What motivates you to continue your work at Med Dimensions on a day-to-day basis?
I think the drive largely comes from the life long passion of helping pets, and trying to manifest that as a career, alongside my love for exploring new technologies or new ways to use it. When I take a step back to look at his from a 3rd person perspective, I'm doing something that satisfies a core value, I'm doing something I have loved my whole life and was a huge portion of that life growing up, and I'm getting to do this all in the realm of hobbies and technologies that I love exploring. How could you not feel motivated to get up in the morning, or stay up late in the evening for those of us who claim to be nocturnal, when you hit a trifecta like that? I really can't envision something more perfect for me to be doing with my life. So the shorter version; because I love what I'm doing to my core.
6.What is your favorite pastime with pets?
Show me a a mountain to hike and a dog by my side, and I couldn't be happier! Being outside is my escape, and an accompanying pets is the cherry on top. Somewhat ironic for the person saying they love high tech stuff, but there is something about the calm of nature, and the unspoken (quite literally) communications between pet and person that make the chaos of the world, the rings of messages, and the hubbub of life a distant worry for a short time.
Follow Will Byron on LinkedIn here.
Follow Med Dimensions on LinkedIn Here.