VENT Creativity and Med-Dimensions Announce Development Partnership For AI Based Canine Hip Replacement Surgery Planning System from DICOM Images

VENT Creativity Corporation., a leading provider of Principal Density Analysis software applications for medical imaging modalities, and Med-Dimensions, LLC., a veterinary medical device company specialising in patient-specific education and surgical solutions, today announced the availability of an integration between the two development environments to streamline the imaging to custom 3D printed cutting guides for canine hip replacement surgeries at an unparalleled speed and cost.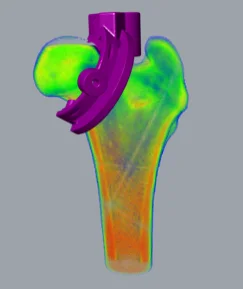 The direct connection between VENT Creativity's 3D CAD based density analysis AI software, Minerva, and Med Dimension's biocompatible 3D printed cutting guide technology allows companies or hospitals to quickly optimize product designs through rapid design and simulation cycles with minimal cost to the surgeon customers.
Digital simulation software is growing in healthcare as more surgeons analyze surgical plans and cutting guides for the surgeries they plan. This trend toward patient specific and fast analysis – where digital simulation occurs as part of the surgical process – benefits surgeons and patients by providing patient specific optimal quality, reduced OR time with guides that fit the patient anatomy everytime, and reduced guess work for in surgery decision making.
For the healthcare system where time and costs are decision drivers for products used, moving from manual tools that do not always fit the patients to custom delivered guides that fit each patient everytime is a value driver. The integration between VENT Creativity and Med Dimensions allows the easy exchange of information so design and simulation run in parallel.
Dr Rory Todhunter on the value added to the medical community from this partnership:
"The goal of elective surgery is to improve quality of life for the patient while reducing the risk of surgical error. Training, practice, and experience reduce the risk of error. However, if freehand implantation of a femoral stem in a total hip replacement procedure is not coaxially aligned, femoral fracture can result. A 3D printed reaming guide to develop coaxially aligned preparation of the femoral canal that can be produced quickly and cost effectively from a CT will reduce surgical error and complications for surgeons of differing experience. The risk of surgical error and operative time should be reduced."
For more information on the technology offered by the collaboration, please visit:
Ventcreativity.com Med-Dimensions.com
Or email us direct at info@ventcreativity.com, info@med-dimensions.com