Long Island Spine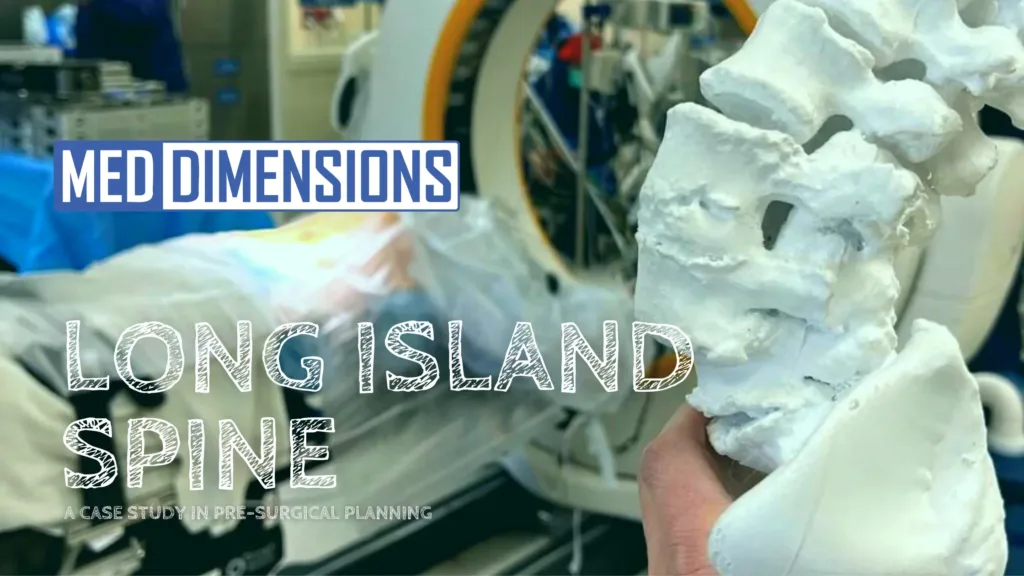 A Case Study in Pre-Surgical Planning
One of the largest applications of 3D modeling and design in medicine is pre-surgical planning.
In early December 2021, Dr. Laurence Mermelstein at Long Island Spine Specialists in New York contacted Med Dimensions about a complex spine case.
A new patient presented with severe pain and limited mobility in his low back. He previously had been through two spine procedures and a hip procedure that had not solved his issues. In the second back surgery, the doctors removed old hardware and attempted a spinal fusion, but it failed over time, as the fused levels sheared and shifted the vertebral body both anteriorly and laterally, causing spinal rotation. Somehow, this patient was still substantially mobile.
Somehow, this patient was still walking into his office!
X-Rays showed the patient's deformities in two dimensional images- but with multiple deformities collocated, it was impossible to see the full extent of the deformation.
Dr. Mermelstein approached Med Dimensions to turn his two dimensional challenge into a three dimensional solution.
"I was able to plan reduction maneuvers for this patient, as the vertebral body had been shifted and there was an element of rotation. This twisted anatomy was challenging, and the model being accurate helped me plan how to piece it together."

Dr. Laurence Mermelstein, Long Island Spine Specialists
We were able to take this patient's images and turn them into an accurate model for Dr. Mermelstein that replicated precisely what he would encounter in the operating room. Collaborating with our partner Vent Creativity, Med Dimensions printed a 3D model that looks, feels, and moves like real bone. The surgeon was able to minimize the unknowns he had prior to the surgery.
With this model, he was able to determine that a posterior surgical approach was ideal, and further that a lateral/anterior approach for operation would potentially be harmful to the patient. (Below are post operative x-rays)
Flash forward to today, this patient is up, moving, and doing well! Pre-operative models for planning and practice are becoming the new standard for patient care, and Med Dimensions is on the forefront of this technology.
Contact us to prepare for your next case!