Featured: Innovative Minds in Vet Med- Megan Sprinkle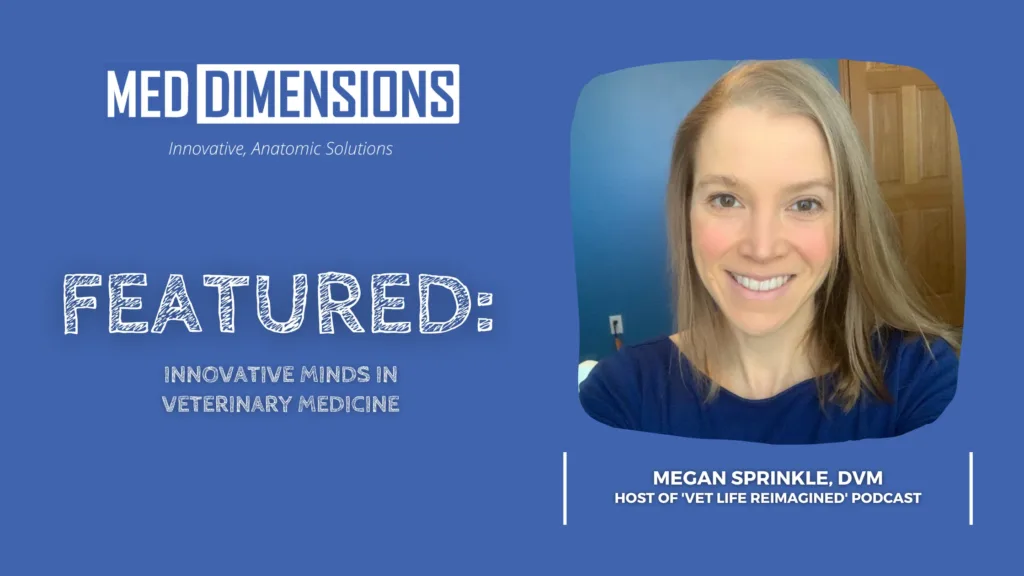 Med Dimensions sits down with Dr. Megan Sprinkle, veterinarian and host of the Vet Life Reimagined Podcast.
When did you know you were going to be a veterinarian? I'm one of those veterinarians who loved animals from a very young age and dreamed of working with them. I wanted to be the Jane Goodall of dolphins. My father told my mother, "let her swim with the dolphins once and get it out of her system." Each animal experience fueled my interest and curiosity, so I did not "get it out" so to say. 🙂 
What challenges have you been able to overcome in your career?
Probably like most people, there have been many challenges along my career journey. From the very beginning, I had school counselors try to deter me from veterinary medicine, especially working with exotic animals. I had to be proactive in seeking experiences, staying curious, asking questions, finding mentorship even in small doses. One challenge was understanding that it's okay to evolve my interests and explore new things. When I hit challenges in zoo medicine, I explored other interests and found that I really enjoyed different paths in veterinary medicine like small animal nutrition. Another challenge I've run across multiple times is avoiding the narrow perception of "veterinarian" from others. A veterinarian can do so many things and still be a veterinarian. Don't let someone's lack of knowledge define how you live out your veterinary life!
You're the host of an awesome podcast- tell us about how that started and how you see it progressing in the future?
While I wasn't the earliest adopter of podcasts, I've been a podcast enthusiast since before 2020. I dreamed of starting my own podcast and started studying how to do it. Hopefully, my previous answers have shown my passion for career pathing and being creative and curious in the field. Also being a veterinarian in industry, I have many veterinary professionals ask me about other career options outside of clinics. The microphone that my sweet husband gave me shows up in Zoom calls, so I had a group whom I was teaching ask me about the "fancy" microphone. I said I was trying to start a podcast and told them my idea for a podcast that demonstrates all the different things people could do in the veterinary profession. I was met with such enthusiasm that it was the exact encouragement I needed to get started. 
You have a connection to 3D printing. How did you get involved in that and how do you see that platform growing?
Back in 2019, a coworker convinced my husband to get a 3D printer. Mike's natural figure-it-out skills had him quickly learning the art of 3D printing. In fact, our wedding decor, including cupcake toppers, were 3D printed by him using a single Monoprice mini 3D printer. He loved how it could be an outlet for creativity used both for fun and functional items. About a year later, Mike hit a huge wall of burn out from his IT career. Interestingly, one of the specific feelings he voiced was a loss of "creativity". We sat and discussed how he could do more of what helped him feel creative and joyful. I believe that helping others is a great way to find gratitude and joy. Mike mentioned that he saw a lot of 3D printers put up for sale on Facebook Marketplace with descriptions like "Barely used; I couldn't figure it out." or "didn't have time to learn it." This frustrated Mike because he enjoyed 3D printing so much and believed people could learn with a little guidance. So, we started making YouTube videos to teach people how to 3D print. When I was convinced to go to the Veterinary Innovation Summit in August of 2021, I saw a booth for 3D printing, I was excited to find something that combined my veterinary background and 3D printing, which I had seen bring so much joy to my husband. It's exciting when two worlds of joy meet – all striving to help people and animals. 
What do you like to do in your spare time?
Mike and I recently moved to Savannah, so right now spare time is unpacking boxes, but I wanted to move to Savannah to be closer to the ocean, so I hope to spend more time walking the beach. I'm an avid learner, so I'm usually listening to podcasts and reading in every moment of spare time. I also feel the benefits of fitness, so I incorporate exercise daily into my morning routine. Some of my favorites are kickboxing and jogging on the treadmill with some fun music blasting in my headphones.  
Do you have a favorite animal you like to work with or is it too difficult to choose?
One of my favorite veterinary moments was working with elephants in Zambia with the Elephant Orphanage Project. Spending large amounts of time with these animals, especially as babies was very rewarding. I admire their playful curiosity and the way they work together and care for each other. Hopefully, I will be able to spend time with elephants again in the future.
Listen to the Vet Life Reimagined Podcast wherever podcasts are found, or view on YouTube here.
Follow Dr. Sprinkle on LinkedIn here.
Follow Med Dimensions on LinkedIn here.