Med Dimensions Garners "Pet Start Up of the Year" Award In 2022 Pet Independent Innovation Awards Program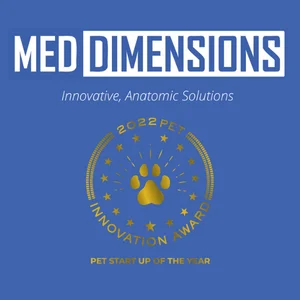 LOS ANGELES (PRWEB) SEPTEMBER 15, 2022
The 2022 Pet Independent Innovation Awards, an independent recognition platform highlighting the most innovative companies, services, and products in the highly competitive Pet care industry, today announced that Med Dimensions, a veterinary medical device company specializing in patient-specific education and surgical solutions, has been selected as "Pet Start Up of the Year."
Med Dimensions converts CT scans and high resolution MRI's of pet patients into 3D pre-operative models, and builds patient-specific cutting guides for intraoperative use. These products and services save time under anesthesia, increase precision and accuracy by the surgeon, and lead to improved outcomes for patients.
Med Dimensions also builds life-like procedure-specific training models for procedures such as thoracocentesis and arthroscopy.
"What a thrill it is to be recognized by the Pet Innovation Awards program this year. Like other surgeons, veterinarians' worst fear is a surprise in the operating room. Most imaging gives clinicians a general idea of what to expect before they make an incision. However, when the pathology is complex or unclear, sometimes this two dimensional image is not enough," said Sean Bellefeuille, Co-Founder and CEO of Med Dimensions. "Med Dimensions takes the medical image of a specific patient and transforms it into a near exact replica of what a clinician will see while operating. By offering both physical and virtual modeling for pre-operative planning, we can manipulate the anatomy to plan ideal cutting angles, implant placement, or even explore bone densities prior to surgery."
The mission of the annual Pet Innovation Awards Program is to honor innovation and recognize the excellence, hard work and success in a range of Pet Care industry categories, including Apparel, Grooming & Cleaning, Food & Treats, Health, Housing, Toys, Training, Retailers & Services and more. The 2022 Pet Innovation Awards attracted more than 2,000 nominations from around the world.
"Clinicians usually have to visualize anatomy on a two-dimensional screen – even though they are preparing for procedures that are three-dimensional. There's no such thing as standard anatomy due to the enormous variability between patients. These inherent unknowns can lead to longer time in the Operating Room, and lack of appropriate instrumentation to complete the procedure for our furry friends who have to have surgical procedures," said Travis Grant, Managing Director, Independent Innovation Awards. "True to their name, Med Dimensions takes a two dimensional problem and turns them into three dimensional solutions. Congratulations on being our choice for "Pet Start Up of the Year!'"
####
About The Pet Innovation Awards
Part of Independent Innovation Awards organization, a global market intelligence and recognition program within the most competitive consumer categories, The Pet Innovation Awards honors the most outstanding and innovative companies, services, and products within the rapidly expanding pet care industry. The Pet Innovation Awards provides public recognition for achievements of pet care industry companies and products including Apparel, Grooming & Cleaning, Food & Treats, Health, Retailers & Services and more. For more information visit: https://petinnovationawards.com.
About Med Dimensions
Our purpose is helping surgeons and their patients alike minimize their time in the Operating Room by creating and collaborating for high-quality, precise, and patient specific 3D solutions, along with superb educational modeling. By committing ourselves to constant innovation, research and development, Med Dimensions seeks to lead medical 3D modeling.